Should you wish to assemble your telescope and your own mount onto our securely fixed steel piers, you need a suitable adapter plate.
The following adapter plates are available:
Super Polaris
Super Polaris DX
Great Polaris
Great Polaris DX
Losmandy G11
Astrophysics CNC400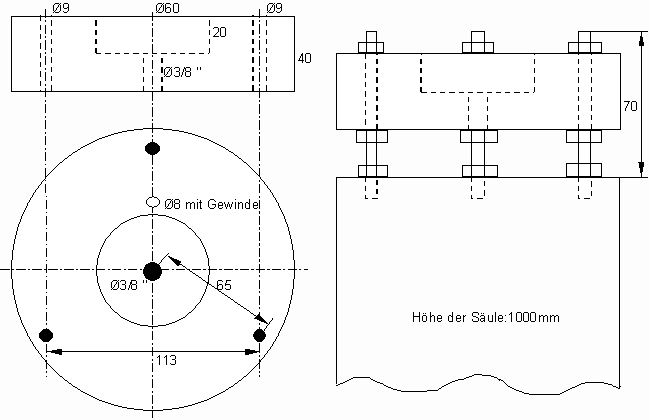 Example for GP DX – Mount
(height of column:  1000 mm)
Suitable adapter plates can also be made for other types of mounts.  For this we require a notification period of at least one month in advance and exact plans of the mounting head required.
You are also welcome to have your own adapter plates made:  The steel plate should measure approx. 150 – 200 mm in diameter with a thickness of 20 – 40 mm.  For leveling purposes, you will need appropriate holes to accept three 8 mm diameter threaded rods, by which the  adapter plate is attached to the column.  The holes should have a diameter of about 9 mm without a thread.  They are located on a circle of 65 mm radius from the disc center and form an equilateral triangle of 113 mm side length.  Furthermore, the adapter plate should have a central bore for attaching the mount and another bore for a bolt to allow for a fine adjustment in azimuth.  The transport weight of such a plate (4-6 kg) should not be underestimated.
---