Walter Straube
Founder of the Hakos Astro Farm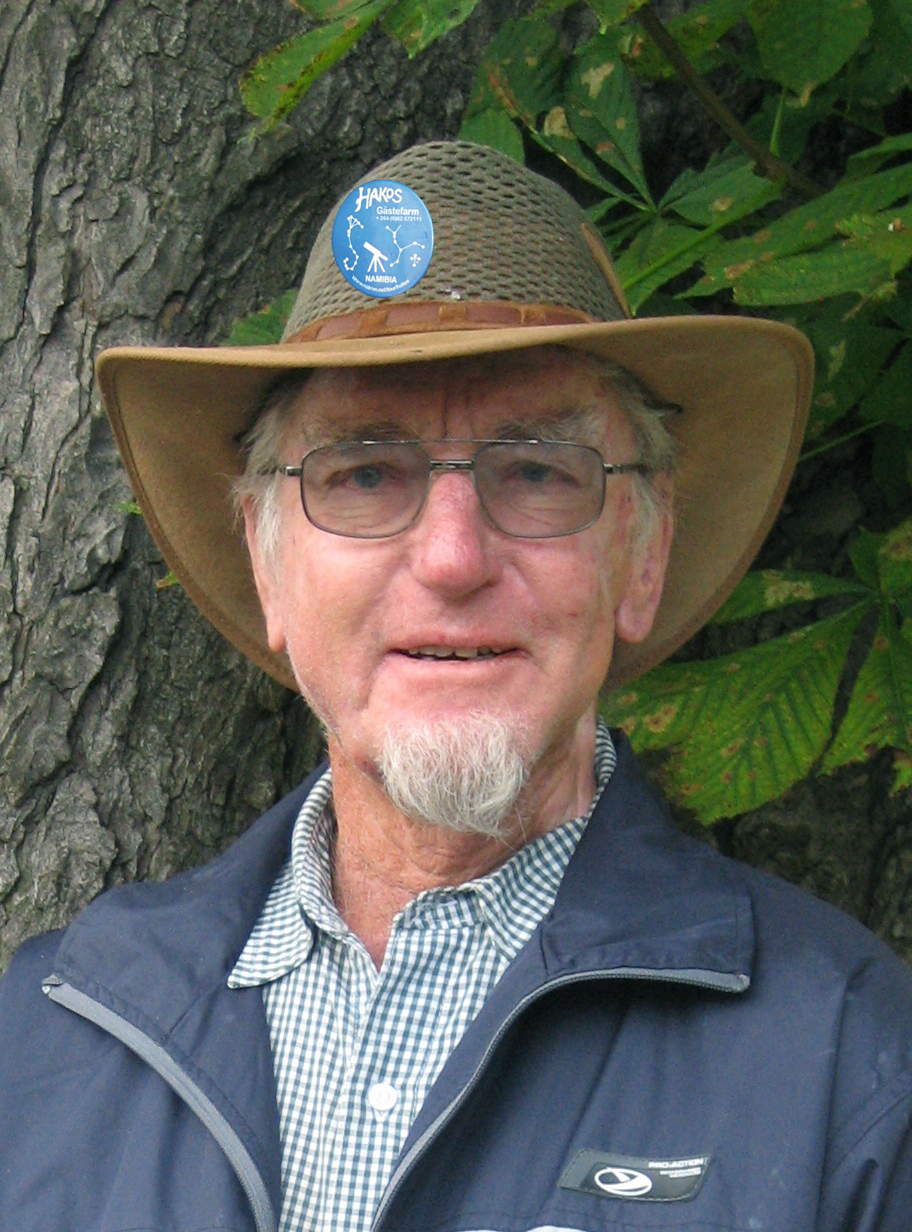 Walter was born in 1937 in Windhoek, South West Africa.  He belongs to the first generation that considered Southwest Africa, today's Namibia, as their home country.  His parents immigrated from Silesia/Germany, with his father arriving in the country in 1904 and his mother in 1936. Walter's father bought the neighboring farm Hohenheim in 1938.
His schooling years were spent in Windhoek and only during school holidays could Walter return home to the farm some 130 km away.  He completed his apprenticeship at the Windhoeker Maschinenfabrik as a welder, fitter and turner.  Then the desire to travel and explore led him to Germany for almost a year.  Walter married Elisabeth in 1960 and they were granted 4 children.  They lived for four years in Walvis Bay, where Walter worked at a machine shop and shipyard.  In 1966, the family moved to the farm Hohenheim.  Here, Walter tirelessly built up the farm:  erecting fences, bulldozing tracks and dams, drilling bore holes, breeding sheep and cattle, building, repairing … 'farmer' is arguably the most versatile occupation there is.  This requires independence and self-sufficiency, i.e. 'to make a plan' in every life situation – and in this Walter was a true Master!
Walter was also intensively involved in the construction and maintenance of the Gamsberg mountain project, where the Max Plank Institute operated an observatory.  In 1984 Walter bought the neighbouring farm Hakos, because he had a vision:  a guest farm with a focus on astronomy!  Within 10 years, he built up the infrastructure for the guest farm, with the doors opening in 1998.  Hakos has found its special charm among astronomers and nature lovers.  Together with Waltraud and Friedhelm, Walter managed the guest farm Hakos and the cattle farm Hohenheim.  One of his main priorites remained taking care of the water supply.  'Retirement' was a foreign word for Walter and so he continued to build on his life's masterpiece, his 'university'.  A guest affirmed:  'Walter is part of the bedrock of Namibia'.
'Why gaze into the distance when happiness lies within your ambit!'  This attitude gave Walter the strength and confidence to overcome difficulties and hard times.
His life never stood still.  Walter was full of ideas and life energy and reflected that he should reach an age of at least 150 years in order to achieve this.  At the age of 78, however, Walter was taken away from his family and life –
… Walter's circle of life has closed …
Walter was unique – with amazing foresight, the strength to implement just about anything and an unshakeable sense of humour with which he defied even his illness for so many years.  Walter's strength was not in philosophising but in concrete action.  Without fear and tireless, his zest for action and creative genius accompanied him his whole life – until the end.  Efficient and capable, – a part of an indefatigable generation!  His life's work is visible, tangible – wherever one looks at Hakos and Hohenheim, everything bears his signature.  He was a farmer with body and soul;  he loved the metalwork;  he loved working with his tractor;  Walter enjoyed nature, the sunset and a roaring campfire, the sound of his harmonica and singing;  he had a great willingness to help and his humour accompanied him until the end of his life.  Walter loved life – and he lived it in abundance.
The natural elements were of great importance to Walter – the sun, moon and the starry sky.  With every sunset he reflected contemplatively upon the day – he had a special relationship to the sun.  The moon was a constant guide to weather changes, clouds and rain – essential harbingers for a farmer.
So now Walter rides on his star, the sun, and with every new day his warmth radiates into our lives!
Walter fell asleep in the arms and the love of his family
Rest in Peace
29.1.1937 – 28.9.2015
---
The birth of Astronomy in Namibia

Elisabeth Straube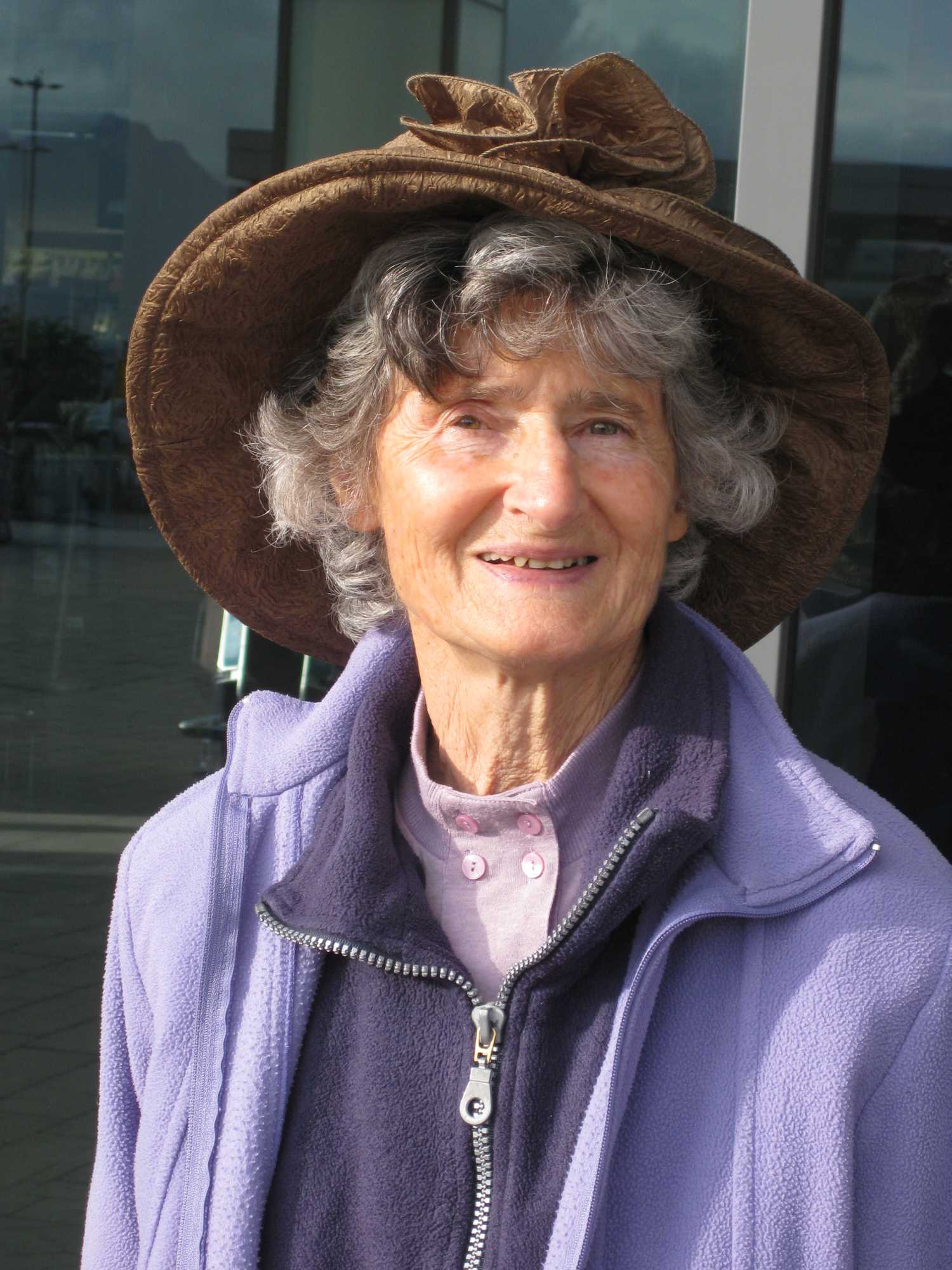 I tied the knot in 1960 and joined my husband Walter, on his family farm 'Hohenheim' in the Khomas Hochland of South West Africa, now Namibia.  Walter was a trained and qualified welder, fitter and turner.  I had just completed my qualification in Germany in domestic science for the hospitality industry including hotels, hospitals and large institutions. Walter's parents farmed with cattle and karakul sheep and we were given the flock of sheep to farm with.  Within the first year, foot-and –mouth disease surfaced in Namibia and all trade with livestock came to a halt.  By now we had our first child and needed to support ourselves so Walter managed to secure a job in Walvis Bay in the Shipyard.  We moved with all our belongings across the Namib Desert in our open Willys Jeep.   Walter had welded our metal bed onto the Jeep like a roof rack with mattress on top and below it, a pram, a table, two chairs, two suitcases, a cool box with home-preserved veggies and our 6-week old baby in a cardboard box between us …… and off we went.
In 1966, we returned to the farm with three children, a tractor and trailer, our Willys Jeep and a new Chevrolet pickup.  Whilst I managed our home and the children, Walter worked many extra hours and was very successful.  Back on the farm we took over the farming operation and soon we were a complete family with four children.
1968 marked a new era, for our family, Namibia, and Science on an international level.  For 60 years already, German Astronomers had nurtured a dream – to have an Observatory in the Southern Hemisphere.  However, this was only possible within a large research organisation and now the Max-Planck-Institute (MPI) for Astronomy took on this project, with Heidelberg/Germany as its home base.  They now needed to find the most suitable location in the Southern Hemisphere with optimal light- and climatic conditions.  Chile, Argentina and Australia were considered but it was the Gamsberg Mountain in Namibia that proved to be most suitable after initial research was completed.
It was a formidable undertaking.  The Gamsberg is Namibia's 3rd highest mountain at 2347m amsl, towering like an 'inselberg' over the Great Western Escarpment with its steep inclines of granite below and a 30m thick quartzite layer on top.  With the Gamsberg being in close proximity to our farm, Walter was employed by the MPI and development took place from 1970-1972:  first a road had to be built, which formed a serpentine track with hair-bend curves and the last incline at 43˚ through the quarzite layer.  Two houses, a workshop and two observatories were erected on the perfectly flat mountain surface measuring 2.4 sq km.  Water and all the neccessary material had to be driven up the mountain by Land Rover.  As the track was so steep, Walter welded the construction steel meant for houses and observatories to the vehicle's loading frame to prevent it from sliding down.  There was nothing that Walter could not do – he always made a plan!  Meanwhile, we were also farming and I found myself counting sheep, dealing with farm workers, accommodating Astronomers, caring for our family … all never ending tasks … but I loved it!
Whilst the Gamsberg Observatories  were manned by Max-Planck Astronomy researchers, the first amateur Astronomers arrived on our farm to study and photograph the night sky.  This was the beginning of our Guest farm, with just three basic rooms to rent out.  Astronomers would stay for 2-3 weeks.  Of the first to arrive was Dr Hans Vehrenberg, a renowned Astronomer, Telescope dealer, Author and Publisher, to complete his Astronomical Atlas of the Southern Hemisphere, whilst recording his observations from the telescope platforms that Walter had built.  The dry winter months with clear skies became a hive of activity for the next 20 years with Astronomers coming mainly from Germany, Austria and Switzerland.   A new world was opened to us with fascinating discoveries of stars, planets and galaxies – beyond anything we could have imagined.  This was enhanced by the amazing visuals through telescopes and prints produced from the night sky.   Walter soon enthusiastically embraced his own astro-photography, whilst I enjoyed the encounters and providing hospitality to Astronomers, many of whom became good friends.
In 1975, Walter and I visited Germany and were able to witness the vast extent of the Max-Planck-Institute's Research Observatories in Heidelberg.   We also enjoyed the privilege of visiting the latest, largest telescope in manufacture by the firm Carl Zeiss in Oberkochen.  It was an unbelievable experience – so large was this telescope that the manufacturing hall measured many stories high so that we as people felt like ants standing beside it.
In 1984, our neighbouring farm Hakos came onto the market.  Walter had a great vision – to build up a Guest farm with a focus on Astronomy!  Farm Hakos, situated on the Great Escarpment with very mountainous terrain was not really suitable for farming, however, perfectly suited for Astronomy.  Walter bought the farm.  It took him 10 years to build-up the Guest infrastructure – all by his own hand with the help of farm labourers and prisoners on parole – a new beginning in many ways!  The basic farm house was refurbished:  en-suite rooms added and  a 'wide-vista' dining area created, with an indoor swimming pool blasted from the rocks and balconies with views far across the Namib Desert.  We also built one Observatory, which was equiped with a retractable roof and telescope – this became the 'Hans Vehrenberg Observatory' in honour of our very first and much loved Astronomer guest in 1970.  In 1996 Hakos Guest Farm opened its doors with 10 guest rooms!
Telescope platforms were erected and soon the first private Observatory was built.  Astronomers started pouring in from Germany.  The previous farmer had a pig farm – these old pigstys were converted into Observatories and in 1999 the 'Internationale Amateursternwarte' (IAS) (International Amateur Observatory) was established with its home base on our farm, Hakos.  Our daughter Waltraud became involved in the guest business and was soon joined by her future husband, Friedhelm.  Together we grew into a new age.
Astronomers from all over the world arrived with their telescopes and camera equipment.  More guest rooms were built, observatories added, outdoor telescope platforms built, the dining area extended and huge permanently installed telescopes were added by the IAS.  Being self-sufficient in every way, not only water and electricity requirements grew, but also the age of computers and internet became essential enablers in the astro-business, leading to sought-after remote controlled Observatories.
Today, 22 years later, Astronomers, international student- and 'Studiosus' travel groups as well as self-drive travellers frequent Hakos.  We now have 15 guest rooms, 4 private observatories, the IAS complex with 5 observatories, 10+ telescope platforms and 7 remote-observatories.  The travel industry in Namibia has grown tremendously in the last 10 years and we have a newly-refurbished, stylish campsite with incredible vistas over the surrounding mountain-scape.  Guests may also enjoy our Planet walk, leading to 'Walter's Point' with an amazing view into the vast Namib Desert and magnificent sunsets!
Waltraud and Friedhelm now take pride in running the Guest farm and welcoming their guests, many of which have become family friends after 20 years of regular Astro-visits.  Whilst some Astronomers bring their own telescopes or belong to the IAS (now over 100 members), others can also rent astronomical equipment from Hakos.  Travellers and novices alike may enjoy an 'Introduction to Stargazing' evening  including telescope viewings … for above our farm, is a deep and brilliant night sky with the Milky Way draped across the heavens!
2019 will be marked by the arrival of a large IAS telescope with a mirror diameter of 80 cm.  This will make Farm Hakos the most prominent Private Observatory in the Southern Hemisphere!
Walter has materialised his vision during his lifetime!  He became known as 'The Father of Astronomy in Namibia' and in our universe above, there is a small planet that carries his name, scientifically described as:  'WalterStraube (157015)'
written by Elisabeth Straube, 2019